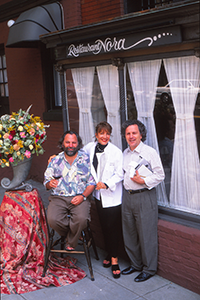 In 1979, Restaurant Nora opened its doors in a 19th century red brick corner building in the Dupont Circle neighborhood. This site originally housed a grocery store and an upstairs apartment for the owners, and the current main dining room served as a stable for the horses that delivered the groceries.
The restaurant represents the vision of Nora Pouillon, who, with the help of her two partners, Steven and Thomas Damato, has always been a proponent of a sustainable lifestyle and believes that the most important element is organic, seasonal, local food prepared in a flavorful, balanced, healthy way.
In 1999, Restaurant Nora became the nation's first certified organic restaurant, which means that at least 95% of all ingredients must be produced by certified organic farmers, growers, and suppliers.
The menu changes daily, offering a la carte items and a four-course chef's tasting menu. The wine list presents over 100 exceptional wines from small producers, many of them using organically grown grapes and sustainable practices.
All five dining rooms at Nora are decorated with antique Mennonite and Amish crib quilts, velvet crazy quilts, and architectural artifacts. Many of these dining rooms are perfect for private lunches, business meetings, parties, and weddings. You can learn more about these rooms in the Special Events section, and Cristina Blanco, our Special Events Director, would be delighted to answer any questions you may have.
Energy
Restaurant Nora is powered by 100% wind power from Direct Energy, a local company that sources wind from farms in Nebraska, Iowa, Texas, and Indiana.
Paper, Cleaning, & Waste Products
The cleaners, paint, rugs, and bathroom products used at Restaurant Nora are all eco-friendly and biodegradable. Our menus are printed on paper made from 100% recycled post-consumer waste, and we also recycle cans and glass bottles. In addition, the restaurant collects up to 50 gallons daily of vegetable trimmings, coffee grounds, and eggshells each day, which Nora's partners compost for their gardens.
Nora's partner has converted his old Mercedes to biodiesel and uses spent fryer oil from the restaurant for fuel.
Restaurant Nora has two full-time employees who do all of the restaurant's laundry using eco-friendly cleaners and biodegradable soaps.